ShashiTharoor, Honorable Member of Parliament,Former Minister of State for External Affairs, and Former UN Under Secretary General for Communications and Public Information, inaugurated CPPR's Quarterly Lecture Series Programme with an inspiring talk on "Freedom of Expression in the Internet Era". The event was held at YMCA International Hall, Chittoor Road, Kochi on 12th September 2012, 5pm.
The event kicked off with a short Introduction by D Dhanu Raj, Chairman, CPPR, where he outlined the objective behind such an event which was to build a platform for luminaries from across the globe to share and disseminate their knowledge and academic brilliance with the Indian Audience, particularly in Kerala. Through this, CPPR hopes to create a culture of constant talks, debates and discussions on contemporary social, political and legal matters.
Prof. KC Abraham (Academic Director of CPPR)  presided and introduced the topic. Prof. Abraham gave the welcome address, highlighting the significance of freedom, and provided a lead up to Dr. Tharoor's lecture with thought provoking questions about how we view, use and abuse our freedom in general today.
Dr. Tharoor was accompanied by his mother, Ms. Lily Tharoor, whom he welcomed with a bouquet as he began his lecture.Dr. Tharoor, spoke to a packed audience of eager students and teachers, engaging and enthralling them with facts and figures, insightful view points and humorous anecdotes. His lecture carried a constant thread of the paramount need for Freedom of Expression, and how this has evolved over time. With avenues of expressing our views and opinions having amplified multifold via digital media such as social networking sites, mobile phones, andyoutube, there is practically no end to 'freedom' as we know it.
Dr. Tharoor gave examples from the across the globe of how movements and revolutions such as the Arab Spring, and Anti corruption Crusades have taken shape and gained momentum, bringing out widespread change, inspiring others in such positions to take up similar stances too.
Dr. Tharoor is widely known to be a 'compulsive tweeter', with an overwhelming fan following of about 1.4 million people across the globe. It was no surprise that he made frequent mention of Twitter and other such social media. He spoke of how it can be used as a tool for the betterment of society, citing a case where he tweeted about a girl whose legs had to be amputated when she was pushed off a moving train, for which he received offers from his twitter followers abroad to help out the girl.
With freedom of expression comes immense responsibility however, Dr. Tharoor stressed. He personally opposed censorship, but felt there needed to be caution exercised. He spoke of the anonymity that goes hand in hand with expression online, which although it can be both beneficial, can also be detrimental to society if abused. He cited the attitude towards north eastern Indians as a case of how some people can distort information and incite ill-feeling and violence.
While he firmly reiterated that while caution should be exercised, it should also not be over exercised. People should not create a false sense of sensitivity for political or personal gain.He cited the current political turmoil with regard to cartoonists – AseemTrivedi's arrest, and the NCERT removal of offensive material to Dalits about BR Ambedkar. In his typical humorous style, he quipped, 'If something is offensive to you, just change the channel or close the book, why deprive others of the chance of viewing or reading something that might not offend them?'.
He spoke of his personal journey with the use of the internet and social media, particularly in the Indian political context. He made jokes at his own faux pas and of his political opponents and party members, and was met with roaring laughter from the audience. He envisioned all political parties and a greater portion of the public today using social media as a medium of expression in the next 10 years, and encouraged the entire audience, particularly the youth, to reach out and make a difference through this means too.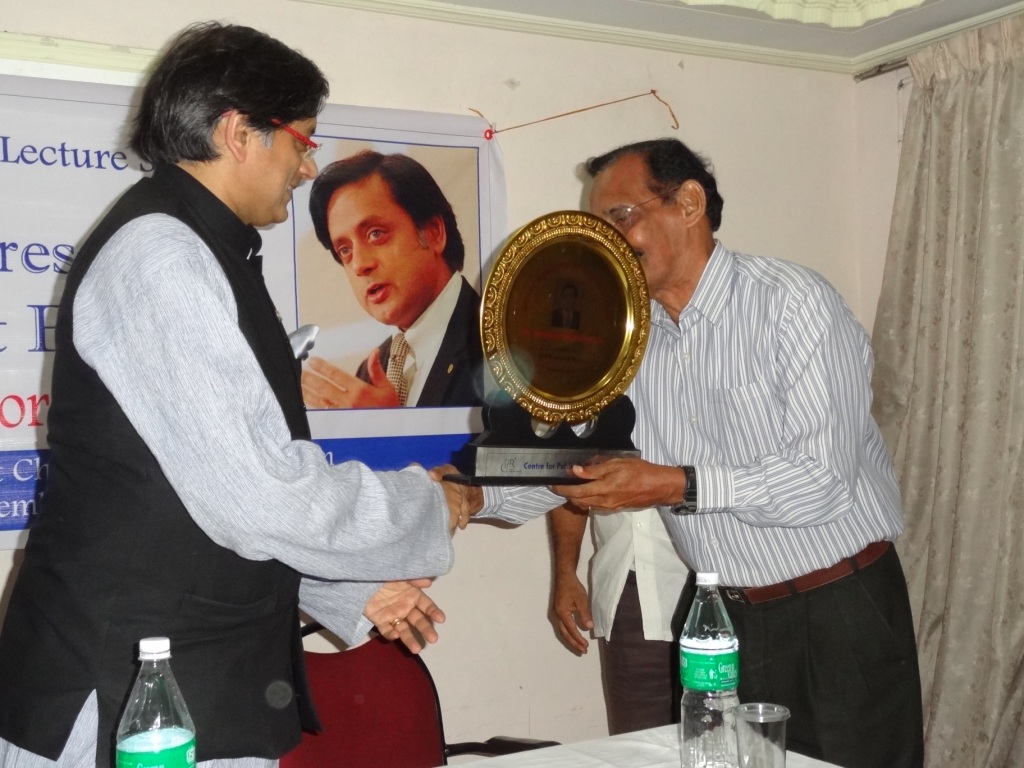 The Lecture was concluded with a Question and Answer session with the youth in the audience, where he deftly answered all questions put forth.
As an Academic Institution, this Lecture Series is a stepping stone to perpetuating the process of invigorating and inspiring young minds to engage in political affairs and own up to their civic responsibility. Through rousing debate and stirring conversation, CPPR is firmly on the road to ensuring our nation is on the path to fulfilling its potential.
Watch in youtube
Live Recorded Video