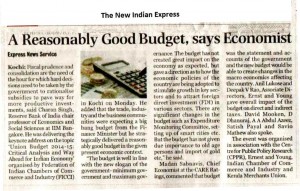 "The Budget could not create any greater impact but it could give a direction as to how the economic policies of the country are being adopted to stimulate growth in key sectors and to stimulate growth in FDI in various sectors" said Dr. Charan Singh, Reserve Bank of India Chair Professor at IIM Bangalore, in the Budget discussion conducted by Centre for Public Policy Research in association with Federation of Indian Chamber of Commerce and Industry.
Mr. Madan Sabnavis, CARE Ratings Chief Economist was another major speaker in the Budget analysis. Though it doesn't have any visible implication it can create a huge impact in macro economic level, he said.
Anil Kuckose and Deepak V Rao Associate Directors , Ernst & Young, David Mooken, Dr. D Dhnauraj, Chairman CPPR, and A A Azeez , Kerala Merchant's union chairman also spoke.