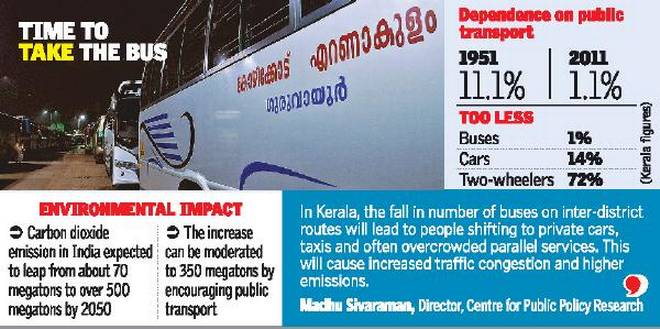 John L Paul | December 9,2016 | The Hindu
Study calls for focus on providing commuters with a choice between KSRTC and private buses, with stress on comfort, speed and safety
KOCHI: The shortfall in inter-district buses following new permit regulations and the subsequent increase in congestion, with commuters going for cars and two-wheelers are the focal points of a study conducted by the city-based Centre for Public Policy Research (CPPR).
The State government had issued a notification in 2012 suspending the issuance of new permits to inter-district buses, while exempting the Kerala State Transport Corporation (KSRTC). The presumption then was that State-run services would step in and operate on these routes. However, it had led to shortage of services from Kochi to several northern districts, said CPPR director (research and projects) Madhu Sivaraman, who conducted the study.
Slow death
He cited national-level statistics to prove that the share of people depending on public transport fell from 11.1 per cent in 1951 to a meagre 1.1 per cent in 2011, revealing the slow death of the system in the country. "This is one reason for the steep increase in pollution caused by automobiles," he said.
Citing Kerala figures, he said buses constituted just 1 per cent of the total number of vehicles, while cars had a 14 per cent share and two-wheelers 72 per cent. "The fall in the number of bus services on inter-district routes will make people shift to private cars, taxis, and often illegal and overcrowded parallel services like tempos, mini-buses and jeeps. This will lead to traffic congestion, higher emissions, accidents, and loss of man-hours," Mr. Sivaraman maintained.
The study delves deeper into issues such as the cost of expanding the public-transportation system. It cites instances like incentives and competition, enabling private players to offer efficient transport systems like the Tokyo rail system. In the US, cities like Austin and New Orleans have outsourced public bus transport management and operation to private players, saving substantial government expenses every year, the study said.
Mr. Sivaraman said being a highly-urbanised State, Kerala had a significant number of people covering distances between 200 km and 300 km everyday. Around 38 per cent commuters use buses, and it must increase.
He also explained how the number of private buses operating on inter-district routes had fallen since the 2009 notification. The total number of private buses registered between April 2009 and March 2015 was 4,884, while over 2,714 KSRTC buses were registered during the period.
The fall in the share of private buses is a cause for concern since KSRTC buses fall short on operational efficiency and cause huge loss to the corporation and the State exchequer, the study said. "The focus must be on providing commuters with a choice between KSRTC and private buses, with stress on comfort, speed and safety," it added.
Ernakulam Regional Transport Officer (RTO) P.H. Sadiq Ali said KSRTC alone could operate fast passenger and superfast buses, according to a State government notification. This leaves private operators with the option of operating limited-stop ordinary services which charge less fare.
He blamed rash driving and rude behaviour by private bus crew as a major reason for commuters shunning private buses. "Trip cancellations early in the morning and night are the other reasons. The introduction of KSRTC's Tirukochi city buses over six years ago brought some respite to commuters in Kochi. But the situation remains grim as most of these buses have been diverted to suburban depots," he said.
This news was  published in The Hindu on 9th December, 2016: Concern over decline in number of inter-district buses
This news is based on the study done by CPPR, click here to read the study: Challenges to the Role of Private Participation in Public Transportation: A Case of Kerala's Private Buses