The technological advancements made in the rail sector give a positive message but demand huge capital investment, which will require private participation.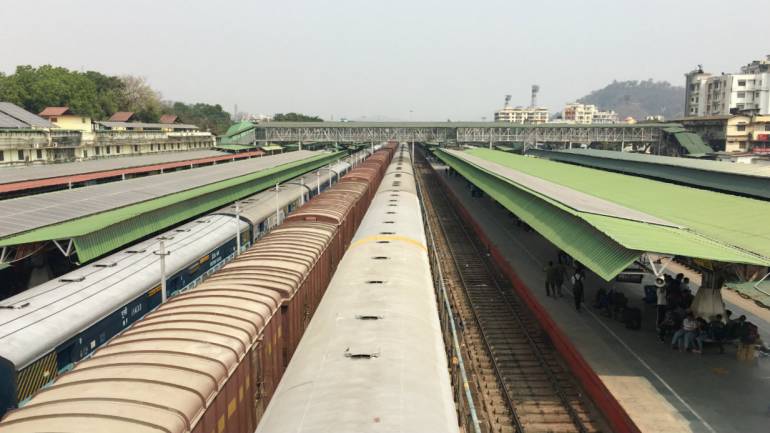 Indian Railways is one of the largest rail networks in the world carrying over 23 million passengers and 3 million tonnes of freight every day. With 1.3 million employees, it is also one among the largest employers in the world. The NITI Aayog's report on reviewing the impact of social service obligation by Indian Railways stated that the social service orientation of the passenger transport business impacts Indian Railways' flexibility to operate it on commercial principles. Given this nature of operation, the railways has suffered consistent losses in the passenger transport business.
Additionally, the cross-subsidisation of low passenger fares by high freight fares has resulted in the shift of freight movement to road transport. The National Transport Development Policy Committee Report 2014 showed that over the past five decades, 59 per cent of freight transport has shifted from rail to road. To arrest this declining trend, various transformative measures were taken emphasising on prioritising private investments in areas such as rolling stock, freight corridors, etc.
In her Budget speech earlier this month, Finance Minister Nirmala Sitharaman proposed a Public-Private Partnership (PPP) model to unleash faster development, rolling stock manufacturing and delivery of freight services.
The Budget estimated an investment of Rs 50 lakh-core in railway infrastructure for the period of 12 years, from 2018–2030. The overall budgetary support to the schemes of the Ministry of Railways increased from Rs 55,088 crore (2018–19) to Rs 68,019 crore. Considering the capital expenditure outlays of the railways, private financing becomes an obvious choice of action for the stated exigencies.
In pursuance of this, the Piyush Goyal-led Indian Railways under its 100 days' action plan envisaged the corporatisation of seven production units, which is clubbed into a new entity called the National Rolling Stock Company. The larger objective is to alleviate fiscal stress, promote operational efficiency and enhance railway systems through technology partnerships. At present, there is an excess dependence on budget allocation for internal arrangements of the railway. Limited public funding translates into restricted access to state-of-the-art technology.
The proposed move is expected to bridge the gap by allowing markets to avail funds for operations and make rail enterprises financially sufficient. Corporatisation is the initial step towards a greater private sector engagement. It is characterised by a recalibration of service expectations and restructuring of traditional arrangements in a way that would realign its resources with market needs, and thereby enhance the economic value of the system.
Where to invest through PPP?
The Railways Convention Committee (2017) had noted that while rail traffic has increased more than 14 times between 1950 and 2014, the track infrastructure has not increased at an equivalent pace. This has been attributed to significant under-investment in the railways.
As per the 2018 Finance Audit report on Indian Railways, non-availability of sufficient funds in Depreciation Reserve Fund to replace the over-aged assets is indicative of weak financial health of the railways. It also recommends that the huge backlog of renewal and replacement of over-aged assets needs to be addressed for safe running of trains.
The report also pointed out that railways need to take measures to improve competitiveness of its services with regard to road and air travel. This is reflected as the total capital grew from Rs 1,83,488 crore as on March 31, 2013 to Rs 3,12,635 crore as on March 31, 2017, but the total traffic handled declined from 7,27,610 million net tonne kilometres to 7,01,813 million net tonne kilometres respectively.
All of these point out to the need of investments in rolling stock and track infrastructure, which in turn would be instrumental in improving the service delivery by the railways.
According to the 2015 Report of the Committee for Mobilisation of Resources for Major Railway Projects and Restructuring of Railway Ministry and Railway Board, the private sector can bring in technology, capital and productive management practices to help modernise the railways. The report also suggests that private sectors should be involved in procuring rolling stock, keeping in view of the in-house production capacity and demand requirements.
This was preceded by the Sam Pitroda Committee Report 2011 which recommended to attract private investment in various areas of railways such as stations and terminals, high speed rail corridors, elevated rail corridor, private freight terminals, leasing of wagons, loco and coach manufacturing units, etc.
Challenges faced by private players in the railway segment
Investments in railway infrastructure require distinct and predictable rules because of their long-term nature. PPPs particularly have observed delays that exceed more than the accepted time-lags between its inception and completion. Issues concerning the financial viability of project proposals, institutional stability and procurement activities plague the investment ecosystem. The private sector will not be forthcoming if there are no incentives.
In any PPP initiative, the rules of the game such as shares and investment against the participation of the board and decision-making powers shall play a crucial role when a private party is planning to invest. Will setting an upper limit for the investment and reducing the complexity of the process attract more private players?
A series of measures have to be undertaken to create a favourable environment for private investments. Higher tax relief on investments in government infrastructure projects can promote investments. However, the government has to be cautious with the move if it intends to strictly follow the fiscal consolidation path, and accordingly decide the degree of relief it can provide with the fiscal space available to it.
Technological advancement
The Integrated Coach Factory (ICF) in Chennai has successfully manufactured Train-18 (chair car), which is a semi-high-speed (160 Kmph) self-propelled train under the Make in India initiative. This cost-efficient train has attracted the interest of South East Asian and South American nations as well. The ICF is also developing Train-19 (with sleeper berths) and Train-20 (with a lightweight aluminium-based body). Producing these to meet the demands will be a major challenge but once it is addressed, it can open an export opportunity for India. The technological advancements made in this sector give a positive message but demand huge capital investment, which will require private participation.
This article was published in Money Control click to read
(Research inputs from Nissy Solomon, Senior Research Associate, CPPR-Centre for Comparative Studies and Jacob Thamarappally Research Intern CPPR; contributed to this article).
Views expressed by the author are personal and need not reflect or represent the views of Centre for Public Policy Research.