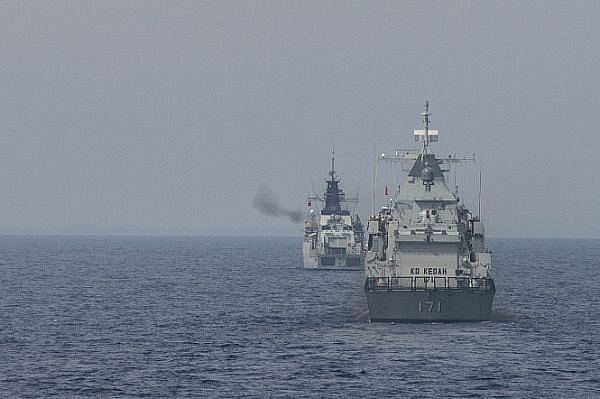 Vietnam Coast Guard (VCG) and Indonesia's Maritime Security Agency (Bakamla) signed a memorandum of understanding (MoU) in December 2021 to further strengthen bilateral 'maritime security and safety' cooperation. The MoU is expected to "serve as a tool, corridor and mechanism for the two sides to enhance mutual understanding, and practical and effective cooperation to settle cases arising at sea". Interestingly, the MoU would also support "temporary measures in delimiting the exclusive economic zone between the two countries, contributing to preserving peace, stability, cooperation and development on the region's waters". This should help both agencies to not only cooperate on maritime security and safety issues, but also help in removing irritants in bilateral relations particularly after the 2019 incident involving the destruction of 38 Vietnamese vessels apprehended by Indonesia over illegal fishing.
Meanwhile, the Head of Indonesia's Bakamla, has invited his counterparts from the four South China Sea claimant States (Brunei, Malaysia, the Philippines, and Vietnam) and Singapore, to a Coast Guards Forum in February 2022. Without naming China, Vice Admiral Aan Kurnia hopes to garner support from his ASEAN mates, and "share experiences and foster brotherhood" and pursue a "coordinated approach" on "how to respond in the field [South China Sea] when all of them face the same 'disturbance'".
China has been relentlessly posturing in the South China Sea for several years now and in recent times made forays into Indonesian EEZ in waters around the Natunas. In June 2021, Indonesia had deployed the semi-submersible rig Noble Clyde Boudreaux at the Tuna Block in the Natuna Sea to drill two appraisal wells. Since then Indonesian and Chinese Coast Guard ships have "shadowed each other around the oil and gas field" and "frequently coming within 1 nautical mile of each other". During this shadow deployment, China had demanded Indonesia stop drilling for oil and gas at the Tuna Block, an area which China claims as part of its "nine dash line" and Indonesia lays claims based on its entitlement under the 1982 UNCLOS.
Few months later, in September 2021 China dispatched its offshore survey vessel Haiyang Dizhi 10 to conduct survey in Indonesia's EEZ and was escorted by Chinese coast guard vessels. The Indonesian Foreign Ministry summoned the Chinese ambassador Xiao Qian to query him about the extended seabed mapping exercise. Interestingly, after taking a break to re-supply in late September, Haiyang Dizhi 10 returned in October and was reported to be operating in Indonesian waters in the North Natuna in the Tuna Block.
These developments have triggered an urgency in Jakarta to call for a South China Sea claimants Coast Guard Forum. The idea of an ASEAN Coast Guard Forum (ACGF) has been in existence since 2015. The Philippines Coast Guard (PCG) under the auspices of the ASEAN Maritime Forum (AMF) hosted an Experts' Group Meeting on the ASEAN Coast Guard Forum (ACGF) on 19-20 August 2015. However, it was Vietnam who first proposed its setting up in 2014 as a "platform for cooperation and coordination among the ASEAN Coast Guards and maritime law enforcement agencies". It will be useful to mention that the ASEAN Coast Guards are members of the Heads of Asian Coast Guard Agencies Meeting (HACGAM), a grouping of 22 member states where these law enforcement agencies are provided an opportunity for networking and information sharing. The last interaction was held virtually in December 2021.
Vice Admiral Aan Kurnia's 'shout out' only to five of his ASEAN counterparts' merits scrutiny. In 2020, maritime agencies from the six countries took part in an ASEAN Coast Guard Forum "signaling willingness to cooperate". The current invitation by Indonesia to the South China Sea claimant States (Brunei, Malaysia, the Philippines, and Vietnam) is quite natural. The reason for the absence of Laos, Myanmar, Thailand and Cambodia to the meeting is being seen as them being close to China; but invitation to Singapore is not quite understood.
Be that as it may, Vice Admiral Aan Kurnia's initiative is being viewed positively and an ASEAN scholar has observed that what the "Indonesians are proposing is very interesting and bold. At least they are trying something," given that China has "successfully exploited" ASEAN's weaknesses in "decision-making by consensus" and leveraged it in manipulating ASEAN statements on the South China Sea, as also during COC negotiation. It is also averred that the Indonesian initiative provides an opportunity to the claimant states to "take the lead and not depend too much on the rest of ASEAN,"
It is the latter that should worry ASEAN. As a collective, it has spearheaded the ASEAN response to the South China Sea including the negotiations with China on the Code of Conduct in the South China Sea (COC) which now has entered in its third decade. Notwithstanding the priority accorded to South China Sea in successive and numerous ASEAN Chairman's Statements, there is an apparent restiveness among the claimant states over ASEAN's ability to extract from China a legally binding COC.
Vietnam (as non-permanent Member during 2020-21) has successfully spearheaded the South China Sea issue at the UN Security Council. This should encourage successive ASEAN chairship to pursue the momentum provided by Hanoi and keep the issue high on the agendas at various international and regional fora. 
Views expressed by the author are personal and need not reflect or represent the views of Centre for Public Policy Research.
Featured Image Source: The Diplomat
Dr Vijay Sakhuja is Honorary Distinguished Fellow with CPPR and associated with our Centre for Strategic Studies. Dr. Sakhuja, a former Indian Navy officer, is also former Director, National Maritime Foundation, New Delhi. He earned his MPhil and PhD from the Jawaharlal Nehru University, New Delhi. He specializes in issues of national security and public policy, particularly in the context of ocean affairs, geopolitics, Climate Change, Arctic, Blue Economy and 4th Industrial Revolution Technologies.