This part of the article looks at the current arms import-export scenario in India to identify the major thrust areas. It also sheds light on the initiatives taken by the Government of India to create a conducive environment for defence related industries.
Major Arms Importers
With 60 per cent of India's capital acquisition being met through imports, the country has emerged as one of the biggest importer of defence equipment in the world, accounting for 12.77 per cent of all global arms transfers in the world for the seven years period from 2011 to 2017. The cumulative Indian arms imports, for the same period, were more than the combined total of the next two biggest importers namely, Saudi Arabia (8.37 per cent) and the UAE (4.25 per cent). But it is heartening to see that India's arms imports reduced significantly in the years 2017 and 2018.
Graph 2: Defence Imports Data of Major Arms Importing Countries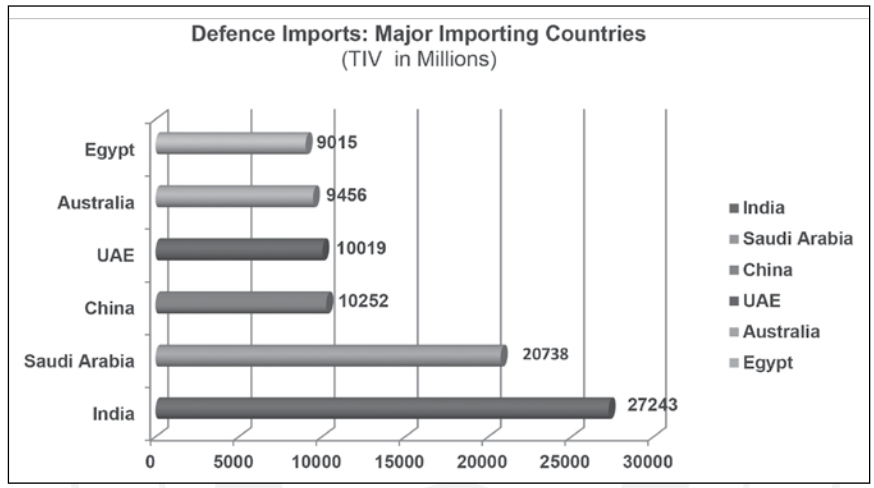 Current Scenario
The Department of Defence Production (DDP) has set a target of producing equipment worth Rs.90,000 crore in the FY 2019–20. Exports worth Rs.15,000 crore have been targeted from the total quantity of equipment produced. This target set for the FY 2019–20 is nearly 12 per cent higher than the production achieved in the previous financial year. In the FY 2018–19, DDP had produced equipment worth Rs.80,502 crore, wherein the exports accounted for Rs.10,745 crore worth of equipment. The export is set to grow in the coming years and is targeted at Rs.35,000 crore by the year 2024.
Views expressed by the author are personal and need not reflect or represent the views of Centre for Public Policy Research
Commander Jayakrishnan N Nair (Retd) is Senior Fellow (Defence and Military Analysis) with the CPPR Centre for Strategic Studies. His research areas are focused on bringing Artificial Intelligence in embedded military systems.