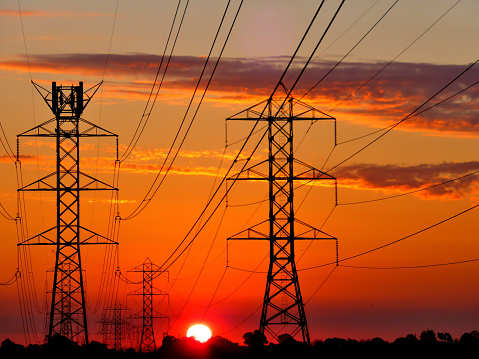 The financial health of Power Distribution Companies (DisComs) has deteriorated over the years, mainly caused by the non-collection of dues and subsidies coupled with high levels of losses. The total loss by DisComs in the country is estimated to be ₹ 90,000 crore in FY 2021, subsequently, due to these accumulated losses, discoms are unable to pay for generation companies (GenCos) on time – as of March 2021, an amount of ₹ 67,917 crore was overdue. 
The average effective price paid for electricity by end consumers in India is Rs. 6.5/kWh, which is about one-third in comparison to tariffs in Germany. The electricity pricing regime of the country kept prices artificially low for domestic and agricultural consumers by practising cross-subsidisation that reflects social welfare redistribution by State Electricity Regulatory Commissions (SERCs). Despite the efforts of the Ujjwal Discom Assurance Yojana (UDAY) scheme in which states are supposed to take over 75 percent of the discoms' debt, DisComs' finances continue to worsen and subsidy dependence among many states and UTs is increasing. The continued reliance on subsidies disincentivises DisComs from making structural improvements apart from straining the state's finances. The delays in rolling out of subsidy reimbursements by state governments' add to the liquidity stresses of DisComs. Subsidies for electricity consumption are the largest of all of India's quantified support for energy: direct tariff subsidies from state governments amounted to INR 110,391 crore in fiscal year of 2019-20.
Subsidies play an important role in ensuring electricity affordability, but they also need to be well designed so they do not undermine the financial viability of electricity distribution companies (DISCOMs). Direct Benefits Transfer for Power (DBT-P) is part of the Government of India's initiative to reform subsidy provision and dissemination to improve transparency and reduce leakages. Subsidies are transferred directly to a citizen's account instead of distorting the market prices for commodities or services. This new system is intended to allow DISCOMs to set tariffs equal to average costs so that subsidies are not embedded in prices but instead transferred when electricity is purchased. Redesigning power subsidy using DBT is a pilotable approach that can achieve welfare goals while being less distortionary. Transitioning to DBT will improve revenue realisation and enable discoms to implement ToD and other best practices in consumer engagement.
The Paani Bachao Paise Kamao scheme has been piloted by Punjab State Power Corporation Limited (PSPCL) as the implementing agency and The Energy and Resources Institute (TERI) as the nodal body in collaboration with the World Bank. It aims to address the issue of agricultural groundwater overconsumption by incentivising farmers to reduce their electricity and water use without disturbing their free electricity provision. Farmers are positively reinforced to consume less than their free allocation by giving them rebates against their bill for lower consumption. Overconsumption is not charged. Electricity is supplied only during daytime, which allows farmers to monitor their water consumption. Consumptions and saving data are conveyed to farmers through SMS on a bimonthly basis. Any incentive amount is credited to farmers through a DBT mechanism.
According to the NITI Aayog report, DisComs will benefit in three ways through implementing DBT:
DBT increases DisComs revenues realised through cost-reflective tariffs and bills that are paid on time. Further, DBT can decrease the cost of service by enabling DisComs and customers to optimise demand to match lower-cost supply through ToD rates and more advanced tariff programmes.
Efficiency: DBT allows DisComs to send proper price signals to large numbers of customers that can result in more efficient use of resources and create opportunities to use time and location-based price signals to optimise operations and increase efficiency.
Discom Finance: DBT will eliminate large delays in discom revenue if state governments are able to deposit subsidies into accounts in a timely manner.
The state governments of the country need to prescribe the details of the DBT scheme to break the vicious cycle of subsidies and rising debts. It could be structured such that consumers do not stand to lose their current benefits, but are paid more for efficient use of electricity, similar to the 'Paani Bachao Paise Kamao' scheme in Punjab.
---
Blog written by Navjit Singh, Research Intern at Centre for Public Policy Research.
Views expressed by the author are personal and need not reflect or represent the views of the Centre for Public Policy Research.