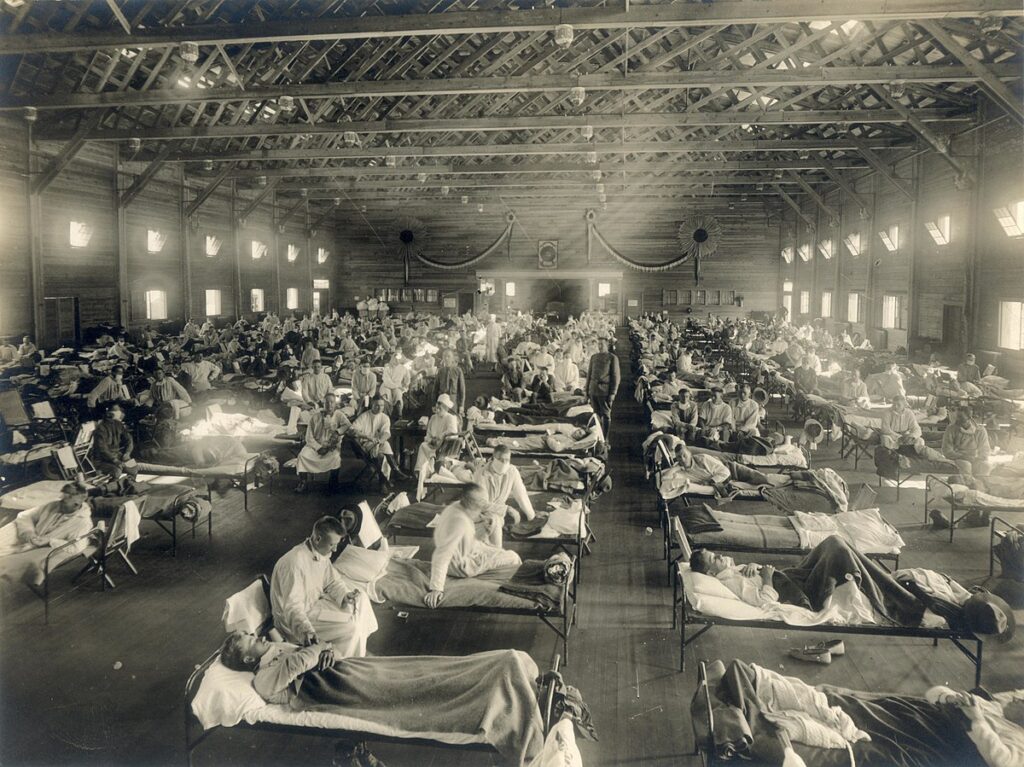 Introduction
In 1918, an H1N1 influenza strain emerged to cause the Spanish flu pandemic, a disaster that has been called the 'greatest medical holocaust in history'. 50 million people died of Spanish Flu in the course of two years from 1918 to 1920. But one of the most interesting features of Spanish Flu was its 'W' shaped mortality age profile.
This article attempts to look at the age specific mortality of Spanish-Flu and derives lessons related to demography from Spanish-Flu which can help our present Covid-affected world.
Age Specific Mortality: Spanish Flu and Covid-19
Fig.1 shows the age specific mortality of Spanish-Flu in the US (Similar to other Spanish-Flu affected states). It can be observed that although mortality is highest among the 60-plus and less-than-5 age groups, the mortality shows a peak among the 20-40 age group. This is uncharacteristic of Pandemics, like say Covid-19 (refer Fig.2), where most deaths occur among the very young and the very old, with a higher survival rate for those in between.
This phenomenon acquires significance for Covid-19 pandemic due to its own changing age distribution (Boehmer, et al., 2020). Although the mortality among 20-40 age group doesn't show a peak for Covid-19, reports from India (TOI, 2021) indicate that the mortality among this group is increasing with time. This development is similar to Spanish-Flu where most of the 20-40 age group deaths occurred during the 2nd and 3rd waves.
Death of Working Age Population
Since Spanish-Flu was so deadly for 20-to-40-year-olds, it deprived families of their breadwinners and communities of their pillars. This left large number of elderly and orphans with no means of support (Spinney, 2018). The negative labour supply shock and increased wages also accentuated migration to areas hardest hit by the pandemic (Saavedra, 2020).  
In the context of Covid-19, a potential 'W' shaped mortality profile might adversely affect countries that has larger number of dependants and can increase the demand for labour. This may mean that countries open their borders for migrants to bridge the labour supply shock.
Importance of Public Health
Spanish-Flu affected people from all socio-economic backgrounds. The cognitive shift that nobody is immune, that was caused by the Spanish-Flu, is considered to have ushered in changes to public health strategy in many European Countries. These countries, after recovering from Spanish-Flu, created or re-organised their health ministries, and embraced the concept of socialised medicine– healthcare for all, free at the point of delivery (Spinney, 2018).
Similarly, the global outlook to the public health systems needs to become more realistic to reflect the different dimensions of the health crisis that we are facing because of Covid-19. This is especially true at a time when the poor and vulnerable, affected by the virus, are facing difficulties in accessing treatments and other facilities (CDC, 2020).
Conclusion
The demographic impact of Covid-19 needs more attention in the mainstream discourse. This calls for better data on age specific mortality and targeted policies based on demographic patterns emerging from the data. Covid-19 will very likely impact labour supply and migration, like any other major pandemic, but how it plays out in the context of Covid-19's demographic impact, border closures and anti-globalization rhetoric is going to be significant. Nonetheless, mortality age profile of Covid-19 has important implications beyond what is obvious on the surface.
Works Cited
Boehmer, T. K., DeVies, J., Caruso, E., Santen, K. L., Tang, S., Black, C. L., . . . Gundlapalli, A. V. (2020, September). Changing Age Distribution of the COVID-19 Pandemic — United States, May–August 2020, from Centre For Disease Control and Prevention: https://www.cdc.gov/mmwr/volumes/69/wr/mm6939e1.htm
TOI. (2021, May). Young people with no comorbidities at risk in 2nd wave. ,from The Times of India: https://timesofindia.indiatimes.com/india/young-people-with-no-comorbidities-at-risk-in-2nd-wave/articleshow/82849169.cms?utm_source=contentofinterest&utm_medium=text&utm_campaign=cppst
Spinney, L. (2018, October). The flu that transformed the 20th Century. Retrieved, from The flu that transformed the 20th Century: https://www.bbc.com/future/article/20181016-the-flu-that-transformed-the-20th-century
Saavedra, B. B. (2020). THE 1918 INFLUENZA PANDEMIC AND ITS LESSONS FOR COVID-19. NATIONAL BUREAU OF ECONOMIC RESEARCH. Retrieved from https://www.nber.org/system/files/working_papers/w27673/w27673.pdf
CDC, USA. (2020, December). Centre for Disease control and Prevention, from Disparities in Deaths from COVID-19: https://www.cdc.gov/coronavirus/2019-ncov/community/health-equity/racial-ethnic-disparities/disparities-deaths.html
(This blog is written by CPPR interns Sonal Kuruvilla & Mohammed Shafeek P.K)
Views expressed by the author are personal and need not reflect or represent the views of Centre for Public Policy Research.