Dr Vijay Sakhuja
Hon. Distinguished Fellow
---
Dr Vijay Sakhuja is former Director, National Maritime Foundation, New Delhi. A former Indian Navy officer, Vijay Sakhuja received MPhil and PhD degrees from the Jawaharlal Nehru University in New Delhi. He has published over 40 books, edited volumes and monographs, and specializes in issues of national security and public policy, particularly in the context of ocean affairs, geopolitics, Climate Change, Arctic, Blue Economy and 4th Industrial Revolution Technologies. He has been on the research faculty of institutions like RSIS, ICWA, ORF and IDSA and is currently associated with Cambodia Institute for Cooperation and Peace, The Peninsula Foundation, India Strategic and Kalinga Foundation.
Dr Vijay Sakhuja is a member of the international editorial board of Journal of Indian Ocean Region (Taylor & Francis) and Journal of Greater Mekong Studies. He regularly teaches and lectures at defence and civil universities and colleges in India and overseas.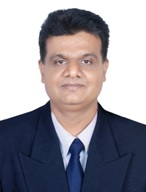 Commander Jayakrishnan N Nair (Retd)
Senior Fellow (Defence and Military Analysis)
---
Commander Jayakrishnan N Nair (Retd), Indian Navy, is an electronics engineer by profession, specialised in Aerospace and Avionics. He has served the Indian Navy for 25 years as an Aviator and was responsible for the successful planning, execution and delivery of several projects and assignments across diverse segments.
Cdr Nair was associated with many DRDO projects while in service and has been selected as a technical expert by DRDO-TDF programme under the 'Make in India' initiative. Presently, he is a pro-bono Defence and Aerospace consultant.
Cdr Nair has a wide experience in aircraft quality assurance as well as aircraft airworthiness certification, and has accumulated a wealth of knowledge in defence electronics and associated systems during his illustrious career. He plans to focus his research on bringing Artificial Intelligence in embedded military systems.
He is a Fellow of Institution of Engineers, Kolkata and a life member of Aeronautical Society of India; All India Management Association, New Delhi; Computer Society of India, Mumbai and the Indian Society of Training and Development, New Delhi.
Dr Jose Sebastian
Senior Fellow (Finance)
---
Dr Jose Sebastian is Chairman and Director of Institute for Enterprise Culture & Entrepreneurship Development, Thiruvananthapuram. He retired as Senior Faculty in Public Finance from Gulati Institute of Finance and Taxation. An expert in Public Finance and Taxation, Dr Jose Sebastian writes for Economic and Political Weekly, IUP Journal of Public Finance, Asian Economic Review, among other well-known journals and magazines. He has also been contributing articles on Kerala's finance and development issues to leading Malayalam newspapers.
Dr Sebastian earned his PhD and Masters in Economics from the University of Kerala and started his academic career with Entrepreneurship Development Institute of India, Ahmedabad. Some of his notable books are Evaluation of Entrepreneurship Development Programmes (second author) and Commodity Tax Performance: A Study in the Context of Fiscal Federalism. Dr Sebastian has been a member of important Committees constituted by the Government of Kerala, like the Sales Tax Advisory Committee, Expert Committee on Improving Statistical System in Kerala, among others.
Muraleedharan Nair
Senior Fellow
---
Muraleedharan Nair has held various positions in the Government of India, including as the Indian Consul in China. His postings abroad include those in the Indian diplomatic missions in China (Shanghai & Guangzhou), Hong Kong and Singapore. After his studies at the University of Kerala, Mr Muraleedharan Nair did a post-graduate programme in Marketing and Advertising from Bhavan's Rajendra Prasad Institute of Communication and Management, Mumbai. He has passed with distinction a degree-level course in Chinese language from the School of Foreign Languages, New Delhi.
Dr Rijo M John
Senior Fellow (Health Economics)
---
Dr. John is an economist and public health policy analyst who independently consults for the University of Illinois at Chicago (UIC), the World Health Organization (WHO), New Delhi and the Campaign for Tobacco Free Kids (CTFK), Washington, DC and few other research institutions in the area of economics of non-communicable diseases. He also teaches at the Indian Institute of Management Kozhikode (IIM-K) as an adjunct faculty. Previously, he was a full-time faculty of economics at the Indian Institute of Technology Jodhpur (IIT-J). He has a Masters in Economics from the University of Hyderabad and a PhD in Development Studies from the Indira Gandhi Institute of Development Research (IGIDR), Mumbai. He holds a Post-Doctoral Fellowship from the University of California, San Francisco (UCSF) and has held full-time academic positions at the University of Illinois, Chicago and the American Cancer Society, Atlanta, USA.
K V Thomas
Senior Fellow (Internal Security & Extremism)
---
K V Thomas has over 36 years of distinguished service in the Intelligence Bureau, Ministry of Home Affairs, Government of India. He has worked in various capacities in different parts of India including insurgency-affected areas of the North East, Gujarat, Madhya Pradesh, Chhattisgarh, Andhra Pradesh and Kerala and is well-versed in the socio-economic, political and developmental issues in those states. He has vast experience in the fields of intelligence, national security, policing, human/civil rights, ethnic conflicts and left-wing extremism. As a Fellow of National Police Academy, Hyderabad, he had undertaken a research project on Policing and Human Rights in Andhra Pradesh during 1998.
B Chandrasekaran
Research Fellow (Urban Eco-system and Skill Development) 
---
B Chandrasekaran has been working in the area of public policy for the last 14 years. He has diverse experience working with the Central and State Governments, corporate sector, NGOs and academia on various issues related to public policy. While working with the Central Government, he was involved in framing of policies and programmes in the area of school, technical and higher education as well as vocational education, training and skills development. He has also played a key role in setting up of the National Skill Development Agency and National Skills Qualifications Framework.
Chandrasekaran has published research articles on development economics—economics of education, vocational education and skills development, economic reforms, liberal vision for India, water management, regional development, city development, etc. and on history of Indian economic thoughts. He has also published research articles in Tamil language on education, history of economic thoughts, thoughts of Tamil Scholars and political economy. He has authored a chapter in Routledge Handbook of the History of Global Economic Thought, 2014. He has a master's degree in Economics from the University of Madras and an MPhil in Social Sciences from Devi Ahilya Vishwavidyalaya University, Indore.
Swapna Nair
Research Fellow (International Trade and Disruptive Technology)
---
Swapna Nair is an economist with extensive experience in public policy, international trade, restructuring of conflict economies, macroeconomic impact assessment across sectors and the impact of disruptive technologies on international trade and domestic policy. She has been an in-house economist/external consultant with international organisations such as the United Nations, World Bank and Asian Development Bank; policy institutes like ICRIER, New Delhi, Overseas Development Institute (ODI-London); national governments and corporate houses. Swapna has lived and worked on projects across Europe, MENA, Afghanistan, Central Asia, Iraq, India, the UK and North America. She has also taught Economics at St Stephens, Delhi University, Middlesex University, Dubai and Amity University, Dubai. She holds an MSc in Development Studies from the London School of Economics and Political Science, and an MA in Economics from the University of Hyderabad, India.
---
Dr Gopinath Panangad
Projects
---
Former Executive Director of Kerala State Literacy Mission, Special Private Secretary to Minister for Tourism, Fisheries and Excise, Government of Kerala, Project Chief at Kerala State Women's Commission and Deputy General Manager of Kerala State Fisheries Federation. Dr Gopinath started his career in All India Radio, where he bagged National Award in Broadcasting followed by an overseas training programme in Advanced Communication by visiting England, Finland, Sweden, Denmark, Germany, Netherlands and Switzerland. He holds MSW and PhD degrees.
Jithin Paul Varghese
Legal
---
Jithin is a renowned lawyer whose expertise is in Banking laws, Civil laws and Constitutional matters with over 10 years of experience. He holds a BA LLB (Hons.) degree from the National University of Advanced Legal Studies, Kochi, Kerala and an LLM from M G University, Kottayam, Kerala.
Lakshmi Ramamurthy
Market Analyst
---
Lakshmi Ramamurthy works as a Market Analyst with CPPR. She was involved in various projects such as Livelihood Project in Chennai, Slum Survey in Chennai, Study on Para-transit system in Chennai and Campus Democracy in India. She has a postgraduate degree in Econometrics from the University of Madras, Chennai. Lakshmi has over 13 years of data analytics experience working in IT, Retail, Insurance and Public Policy. At present, she is managing the data and analysis department for CBHS (Comm Bank Health Sector) in Australia.
Manoj Mathew
Policy Project Consultant for Delhi – NCR region
---
Manoj Mathew has been associated with CPPR as Policy Project Consultant for Delhi - NCR region. He is a graduate in both Commerce and Journalism and Communication. Being a policy enthusiast having expertise in Coalition Building & Strategic Partnership Development, he has served in various senior roles at several Indian and international non-profit organisations. He is the founder and promoter of Policy Talks based in New Delhi and an advisory member to the Amity Institute of Public Policy at Amity University, Noida. Manoj was involved in various UN consultations and facilitated youth workshops in post-conflict societies in Africa & Asia. He was instrumental in championing the policy reforms in the Bamboo sector in India. Manoj is well travelled, worked and lived in Manila and Paris engaged in global advocacy for addressing student poverty and peace building. He has 19 years of extensive experience in non-profit sector and volunteers for several initiatives.
Dr Salahuddin Ayyub
Research
---
Salahuddin Ayyub is a Research Consultant at CPPR and has more than 10 years of research and teaching experience. He holds both graduate and postgraduate degrees in Economics and MPhil and PhD degrees in International Trade. He specialises in International Trade Policy research, International Relations and Islamic Studies. He has worked with Research and Information System for Developing Countries (RIS), Indian Institute of Foreign Trade, Centre for WTO Studies (Ministry of Commerce, Government of India), National University of Educational Planning and Administration (NUEPA) and Evalueserve – a multinational research firm. Salahuddin has published several research papers in renowned journals and books and regularly writes for magazines and newspapers on economic and social issues. He has an extensive list of presentations in esteemed national and international conferences. He has a good command of Urdu, Arabic, Hindi and English languages. He has worked for PwC, DFID (UK), Spices Board of India, APEDA, NITI Aayog, Ministry of Commerce, Ministry of Textiles, Ministry of MSME, World Bank, UNICEF and TNT.
Sherylene Shamina Rafeeque
Consultant Editor
---
Sherylene Rafeeque has been associated with CPPR as Consultant Editor since 2016. She has also managed media relations and programmes for the organisation briefly. A trained editor and author of several children's books, she resides in Kochi. Sherylene earned her postgraduate degree in Visual Communication from Amrita Vishwa Vidyapeetham headquartered in Coimbatore, India.
Dr Swapna Jambhekar
Research
---
Dr Swapna Jambhekar is a Research Consultant at CPPR and is closely involved in the research studies undertaken by CPPR. She graduated as Bachelor of Homoeopathic Medicine and Surgery (BHMS) from Mumbai University. After completing Post Graduate Diploma in Hospital Administration (PGDHA) from All India Institute of Local Self Government, she pursued Master of Hospital Administration (MHA) from Tata Institute of Social Sciences, Mumbai (TISS). Swapna is also a Fellow of Insurance Institute of India (FIII) and has worked with well-known bilateral and multilateral agencies in the areas of microinsurance and public health. Her work experience encompasses working at the grassroots level community mobilisation and training, implementation, administration, research, documentation and consulting.