KOCHI: Kochi accounts for more than 40% of the state's total revenue. Still, lack of effective implementation, absence of proper monitoring and want of a leadership to spearhead the execution of projects cripple the development of the city.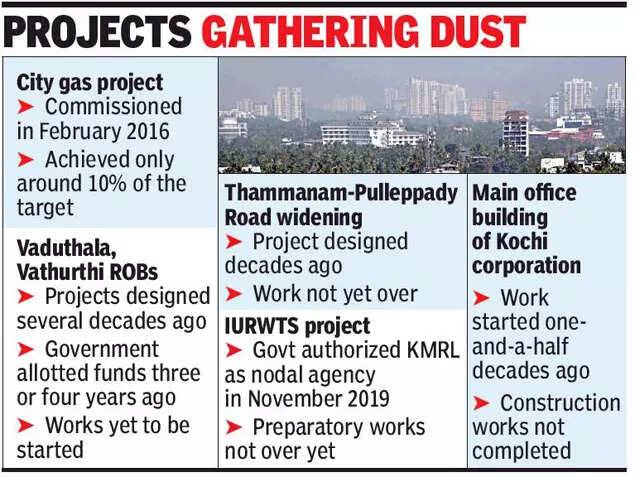 Work on mega projects, which had to be completed several years or decades ago, are yet to be started. Ironically, shortage of funds is not the hindrance in the way of implementing many such projects. City gas project, which was commissioned by the then chief minister Oommen Chandy in February 2016, could achieve only around 10% of the target.
The deadline of the project had expired in September 2020. The target was to give piped natural gas (PNG) connections to around 40,000 households in the district. Even after extending the deadline of the project by one more year, Indian Oil Adani Gas Private Ltd, the implementing agency, could give only around 4,600 connections!
Lack of able leadership to monitor and implement the projects is said to be one of the major problems.
"The issues we discuss in Kochi are still waste management, mosquito control, etc. Even while we are unable to address these issues, we fail to meet other needs arising as the city grows," said D Dhanuraj, chairman, Centre for Public Policy Research, a think tank. "Even as Kochi contributes heavily to the state exchequer, the authorities fail to design futuristic and sustainable projects for the city. Once we implement projects with a vision and make the city liveable, high-end ventures will come to the city thereby enhancing the revenue and tax entitled to the government," Dhanuraj said.

It has been several decades since the projects to construct railway overbridges (ROBs) at Vaduthala and Vathuruthi were designed. Though the government allotted funds from the Kerala Infrastructure Investment Fund Board (KIIFB) for constructing both RoBs three or four years ago, the work is yet to be started. Widening of Thammanam-Pulleppady Road, another project designed decades ago, is still halfway through.
It was in November 2019 that the government authorized Kochi Metro Rail Ltd as the nodal agency for implementing the Rs 1528 crore Integrated Urban Regeneration and Water Transport System (IURWTS) project to address the vexed issue of water logging in the city. The plan was to start the work of widening, desilting and beautification of five major canals in the city within six months. But, a Netherlands-based firm which was authorized to prepare the detailed project report (DPR), and KMRL couldn't complete even the preparatory works so far. The plan is to start navigation through the canals.
Another example of delay in projects implementation is the construction of the main office of Kochi corporation. The work which was started one-and-a-half decades ago is yet to be completed. The project cost hiked by almost six times and now it will require around Rs 40 crore more to complete the work.
This article was first published in The Times of India
Dr D Dhanuraj is the Chairman and Managing Trustee of CPPR. He holds a PhD in Science & Humanities (Anna University), MSc Physics (Mahatma Gandhi University) and MA Political Science (Madras Christian College). He also holds a Post Graduate Executive Diploma in International Business from Loyola Institute of Business Administration, Chennai, and has undergone training by TTMBA of Atlas USA, IAF Germany, FEE USA, etc. His core areas of expertise are in urbanisation, urban transport & infrastructure, education, health, livelihood, law, and election analysis. He can be contacted by email at [email protected] or on Twitter @dhanuraj