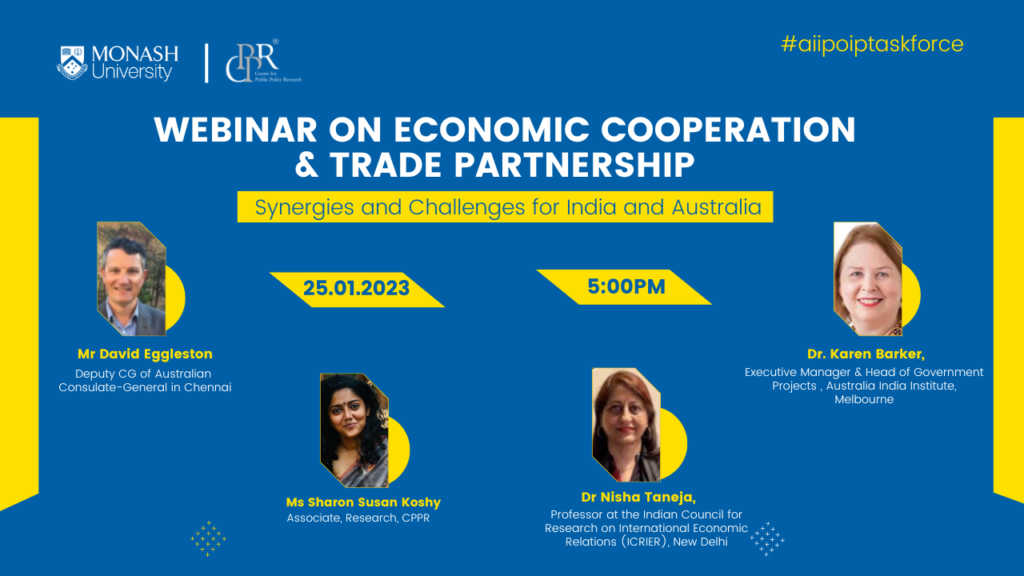 CPPR Webinar Series
Event Report
Date and Time: 4 -5 PM IST – 17th January 2023
Platform: ZOOM
Speaker: Dr. Nisha Taneja, Mr. David Eggleston, Dr Karen Barker
Moderator: Sharon Susan Koshy
---
Proceedings Report

About the Event: The India-Australia Economic and Cooperation Trade Agreement (Ind-Aus ECTA) came into effect on the 29th of December 2022. It is the first significant trade agreement with a major developed nation under Prime Minister Narendra Modi's government. The Ind-Aus ECTA will work as an institutional mechanism to facilitate and enhance trade between nations while covering most tariff lines dealt between the two counties. For Australia, the agreement is significant as the country is transitioning into diversifying its export markets towards India while also forging improved bilateral trade relations with India. As a result of the ECTA, India is said to benefit from preferential market access and zero duty access to Australian markets, especially for India's labour-intensive sectors including jewellery and gems, leather, furniture, footwear, textiles, food, engineering products, automobiles and medical devices. According to the Global Trade Research Initiative (GTRI), products worth $23 billion will move towards becoming duty-free from the first day of execution. Meanwhile, India would provide preferential access to Australia on more than 70 % of its tariff lines, in sectors such as coal, mineral ores, wine and additional raw materials. In fact, this could work as a step forward in the direction of the Comprehensive Economic Cooperation Agreement (CECA) which would address digital trade, other areas for market access for goods and services, a government procurement chapter to transform the FTA into a CECA and more. On this note, the webinar will examine the present and future bilateral trade implications of the India-Australia Economic and Cooperation Trade Agreement, while identifying trade, FDI, education and strategic complementarities and synergies between the two nations.
The Key Speaker or Speakers:
Dr. Nisha Taneja, ICRIER
Mr. David Eggleston, Australian Consulate-General in Chennai
Dr Karen Barker, Australia India Institute
Summary of Discussions
The India-Australia Economic and Cooperation Trade Agreement looks to foster greater trade certainty and economic growth for both nations while bolstering cooperation and generating strong mobility outcomes. Thus, there is a primary focus on targeting trade, business and cultural exchanges to better support India's growth strategy, strengthen supply chain shocks and build resilience. The ECTA is looking to target greater mutual market access, foreign direct investments, mutual digital trade, sustainable development and more, via time-bound commitments.
The Education sector is a critical driver of FDI, with direct links to skilled graduates and a resilient labour force. The ECTA looks to pave the way for FDI in the education sector, by providing opportunities for India and Australia to work together and collaborate. Transnational and cross-border education, education technology, student exchanges, and distance learning with Indian and Australian campuses are initiatives that look to mutually open up the education sector. Thus, this looks to create synergised quality demands and regulations while facilitating research and development with priority fields, with the trade agreement enhancing financial viability.
When looking beyond the ECTA, bilateral relations alongside mutual strategic and economic operations will see a bolstering of the India-Australia relationship. ECTA will look to strengthen the India- Australia relationship within the Quad, G20, The Australia-India Indo-Pacific Oceans Initiative Partnership (AIIPOIP), Indo-Pacific Economic Framework (IPEF) and more. Consequently, deepening collaboration, coaction and cooperation will act as an impetus to ensure the indo-pacific remains inclusive, free and open.
Key Takeaways
The ECTA is a pivotal trade agreement that will open access to foreign markets, diversify the export basket, encourage bilateral relations, widen the market and diversification perspective of India and Australia and aim to pave the way for the Comprehensive Economic Cooperation Agreement (CECA).
The ECTA is key to deepening complementarities and synergies within the education sector. The culmination of technology, training and education will aid India and Australia in targeting rising skill shortages. Thus, the ECTA can act as a take-off point to boost tech access, vocational skill training, and mutual innovation, and generate incubators for tech startups.
India and Australia are looking to target global supply chain shocks and build resilience while developing trade in new and developing sectors via the ECTA. Thus, growth in trade and economy can foster tech-enabled supply chains, research and development, and climate change initiatives, and help expedite India and Australia within renewable energy partnerships, in line with green vehicles, batteries and solar energy. However, there must be high utilisation of the ECTA, where it is essential to bridge information gaps to better understand the business-to-business level, and the role of policymakers and civil societies to make the most of the ECTA.

The moderator for the event was Sharon Susan Koshy . She is Associate, Research at CPPR .