"The Chinese intelligence network has now reached greater heights of expansion and professionalism under the leadership of Xi Jinping."
Sun Tzu, the most influential Chinese military writer of the 6 th century BC says that success in the realm of war relies on 'foreknowledge', which in turn requires intelligence of a very sophisticated nature, not merely information of the physical disposition and capability of enemy forces, but understanding of personality, motives, and psychology of the enemy/personnel. And the 'foreknowledge cannot be gotten from ghosts or spirits; cannot be had by analogy; cannot be found out by calculation, but must be obtained from people who know the conditions of the enemy. Sun Tzu's concepts and thoughts have remained the fountainhead of Chinese intelligence apparatus from time immemorial. Behind the iron curtain of the Chinese Communist Party (CCP) and under the command of great stalwarts like Mao Zedong and Deng Xiaoping, China had built up its intelligence network mainly to protect its national interests. The network has now reached greater heights of expansion and professionalism under the leadership of Xi Jinping. In the words of Roger Faligot; "there has been formidable increase in the authority of the Chinese intelligence apparatus, especially since 2017.
The steady expansion of the Chinese intelligence apparatus is the result of a mosaic of geo-political-strategic and economic factors closely intertwined with the Chinese ambition to emerge as a superpower. China, the world's second largest economy, is steadily expanding its foot-prints in ports, airports, railways and other infrastructure from Europe to Southeast Asia and beyond. The Belt Road Initiative (BRI) is the best example. As on February 2023, 147 countries – about two third of world's population and 40 percent of global GDP – and 32 international organisations have signed on the project or shown interest. Moreover, as a key partner of Comprehensive Progressive Trans Pacific Partnership (CPTPP), Regional Comprehensive Economic Partnership (RCEP), Asian Infrastructure Investment Bank (AIIB), Shanghai Cooperation Organisation (SCO) etc., China plays a decisive role in Asian economy which has now become the economic centre of gravity of the global economy. From a strategic angle, besides the increased tension with the US, China's hegemonic designs have strained her relations with India, Taiwan, and many littoral states of South and East China Seas. Needless to mention that advanced intelligence is vital for China to formulate policies or sound strategies to protect her interests or effectively deal with such issues.
As the Chinese intelligence system continues to operate in total secrecy, the intelligence watchers are divided on their exact nature and style of operations. On many occasions, instead of using a single acronym, these agencies are described as 'Human wave', 'Mosaic' or 'Thousand grains of sand'. A traditional school of thought is that the Chinese intelligence services 'instead of relying on conventional and expensive forms of espionage with professional spies, rely on multiple avenues of data collection through amateurs which include Chinese businesses, civilians, academics, among others, to gather extensive low-quality information which can then be stitched together to form 'intelligence. Such sweeping generalisation, according to another set of analysts, would misdirect the counterintelligence measures of other nations in countering the challenge from these agencies. They interpret 'the Chinese Intelligence Services as a framework of multiple professional systems which function to carry out intelligence, surveillance and reconnaissance (ISR) operations both internally and externally.
Just like in many other countries, the Chinese intelligence services consist of both civil and military agencies. The Ministry of State Security (MSS) established in 1983 is the foremost civil agency. The MSS with national, provincial and local set up 'ensures the security of the state through effective measures against enemy agents, spies, and counter revolutionary measures designed to gather foreign intelligence from targets in various countries overseas'. Their sleuths are experts in undertaking  various clandestine operations including sabotage, industrial espionage and theft of technology. Tens of bureaus/divisions dealing with domestic and external intelligence, counterintelligence, anti-defection, research, technology, overseas Chinese etc. function under the MSS. With the elevation of Xi Jinping to the hierarchy of the Chinese Communist Party in 2012, the strength and influence of MSS has increased. According to an online report by China Digital published in 2015, the MSS had a strength of about 1,00,000 spies of which around 60,000 of them worked within China while 40,000 of them were working in other countries. That is why Xi Jinping had observed that 'Chinese espionage agencies, especially MSS would lead from the front to change the existing world order.
The MSS has floated a number of fronts/extension outfits, 'think-tank groups', trade and cultural bodies, industrial houses etc. for carrying out its operations in different countries. The China Institute of Contemporary International Relations, China Reform Forum and Chinese Association for the Promotion of Cultural Exchange and Cooperation are prominent among such outfits. Besides, a number of party/government controlled bodies like the United Front Work Department (UFWD), Overseas Chinese Affairs Office (OCAO), Institute of Scientific and Technical Information of China (ISTIC) etc. contribute to the generation of intelligence by promoting/funding official or quasi-official entities such as cultural and friendship associations, overseas academic groups like Chinese Students and Scholars Associations (CSSAs) and Confucius Institutes or research institutes in the areas of science and technology, trade, business etc. Similarly, the Xinhua, the official news agency of China, is considered to be a major facilitator for intelligence gathering. According to an investigative report in Greek media outlet Pentapostagma published in April 2021, Xinhua is primarily the eyes, ears and voice of China.
In the case of military intelligence, the People's Liberation Army (PLA) has a crucial role. The PLA's four service branches, all five theatre commands, and at least two of the PLA's four general departments undertake intelligence functions which are in the nature of tactical support to military operations. The General Staff Department of the PLA used to integrate these disparate elements at its highest levels.
The analysis of the CIS [see above] involved espionage and other activities in different countries indicate that they adopt open, covert and 'tech' channels for the collection of intelligence. Research conducted by George Town University revealed that 'China's intelligence services implement more 'traditional' intelligence operations in order to obtain more sensitive, to include classified, US government information, and use a more opportunistic, 'non-traditional' approach for transfer of export restricted and other less sensitive types of information. The detection and arrest of General Lo Hsien-Che in Taiwan, who was recruited by the Chinese intelligence, while working as Military- Attaché in Thailand during 2004 and three abortive attempts made by Chinese intelligence to induct American student Glenn Duffie Shriver into the US State Department/CIA by offering $70,000 were clear examples of their use of conventional tradecraft tools for espionage/intelligence gathering. But the arrest of Tong Shengyong, a translator for Chinese delegations in Russia during October 2011 for allegedly trying to buy details related to the Russian S-300 anti- aircraft missile system, demonstrated that 'the Chinese intelligence services play a secondary role relative to large, informal networks of amateurs, vacuuming up information irrespective of Beijing's economic, military, and political priorities. Moreover, Chinese secret services extensively use the ethnic Chinese émigrés and citizenry abroad for generation of various types of intelligence.
In clandestine operations like the recruitment of 'agents', the CIS exploit conventional tradecraft tools like 'MICE' (money, ideology, compromise/sex and ego). While money was the major motivating factor in Glenn Duffie Shriver case of 2010, both money and sex were used to recruit Kun Shan Chun (Joey Chun), an FBI employee convicted in 2017 for supplying information about FBI operations to Chinese agents. Just like dozens of Westerners holding key positions spied for the USSR for ideological reasons during the cold war era, the CIS exploited the ideology of Maoism and Chinese communism to win over agents. In the case of the people of Chinese origin/ heritage, their patriotism/ego was ignited by highlighting themes such as China as an emerging superpower or the merits of 'socialism with Chinese characteristics'.
In the context of India, the Chinese intelligence agencies have extensive interests especially in the light of unresolved border disputes and the conflicting interests of India and China in the Indo-Pacific region. The Chinese interests in India cover a wide range of areas such as the foreign policy and strategic alliances, trade and commerce, development and deployment of nuclear weapons, missile systems, IT capabilities, space and satellite research programmes, besides the developments in the borders, especially the troop movements. Beginning with the military occupation of Tibet in 1959, CIS were engaged in building up their network in India. These efforts had gained further momentum on the eve of Indo-China conflict in 1962 when a large number of agents, informers and sympathisers were recruited in the border areas. In the post-conflict phase, their focus had shifted to sponsoring insurgencies in the North Eastern states. Batches of insurgents and militants from different NE states visited China particularly Yunnan province for training and procurement of weapons and explosives. Though such linkages have come down in the recent past, certain splinter insurgent groups from the region continue to look towards Beijing for their support/assistance.
The CIS use ideologues, journalists, 'think-tanks' and activists, especially those with Marxist or ultra left bend of mind for their operations in India. While traditional tradecraft tools such as espionage are used for the collection of strategic intelligence, they extensively use new technology and cyber space for other operations. Over 40 popular Chinese mobile applications which had come under cloud for their dubious operations were banned in 2020 when serious border clashes took place between the two countries. Another area of concern is the spy satellites/balloons and reconnaissance ships that have been targeting the sensitive areas or establishments such as the Andaman Islands. Such instances had come across in 2013 and 2019 and during the Malabar trilateral exercises in 2018. China also uses their friendly bases in neighbouring countries as launching pads of their covert intelligence operations targeting India. For example, they have set up two dozen Chinese Study Centres and around 30 firms in Nepal along the Indian border. Many of these centres have been suspected to be used for intelligence operations.
---
This article was first published on Asian Institute for China and IOR Studies
Views expressed by the author are personal and need not reflect or represent the views of the Centre for Public Policy Research.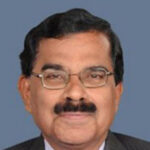 K V Thomas is Senior Fellow at CPPR. He has over 36 years of distinguished service in the Intelligence Bureau (Ministry of Home Affairs) of India where he rose to become the Associate Director. He can be contacted at [email protected]