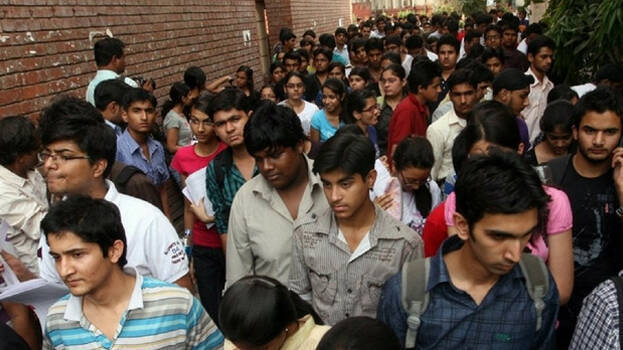 In Kerala, the youth account for around 23 per cent of the State's population. The Periodic Labour Force Survey(PLFS) report suggests that unemployment rates are high for the young population of Kerala among other age groups. The unemployment rate among youth is 36.9 per cent in rural areas and 33.8 per cent in urban areas.  
According to the Kerala Economic Review 2021, the overall unemployment rate in Kerala is 10% in 2019-2020 which is higher than the national average of 4.8%. For educated (secondary and above) persons of age 15 years and above, the unemployment rate in Kerala is 16.7 percent.
These figures highlight the fact that, though Kerala surpassed the other states in literacy, education and health statistics, it fails to translate these numbers to economic opportunities and employment for its young population. Among the key reasons for the high educated unemployment in the state is the lack of employable skills and updated intuitive curriculum based on emerging trends in employment.
Supply side issues and solutions
As per the Skills Gap report brought out by the National Skill Development Corporation in 2021-22, the bulk of employment is expected to arise from the building and construction (16.5%), trade, hotels and restaurants (15.3%) and manufacturing (13.3%) of the total estimated employment. Being a state with high population density with a crunch of land resources, Kerala needs to focus more investments in technical and professional education, health tourism and IT sectors, to create more opportunities.
Kerala government is investing in building the skill ecosystem in the state through initiatives like Knowledge Economy Mission, ASAP and similar initiatives. Over the years, the employment share in primary and secondary sectors are on a decrease in Kerala. The contribution of construction and service sectors of the economy are higher in Kerala than in the rest of India. Hence, the skill ecosystem created by the State must absorb them and ensure their upskilling and reskilling in the relevant expanding sectors of the economy. Therefore, the government must focus on providing skill courses based on a curriculum built on academia-industry associations to cater to those industrial and service sectors that are in expansion in the state.
Further, the government should rework the education system in the state based on New Educational Policy 2020 by incorporating compulsory practical training during semester breaks and a robust credit system that include the credits for online certificate courses that they undertake during their college education. The vocation education must include entrepreneurship training for managing a business or trade as startup ecosystems are one of the main job providers in the state.
The reason for thelack of quality education in higher educational institutions can be attributed to the deteriorating teaching quality. Government lecturers, being permanent and secure in their jobs till retirement age, the lack of appraisals in their career makes them hardly invest in upskilling themselves. This translates into poor teaching outcomes and a lack of enthusiasm in students. The New Educational Policy 2020 suggests appraisal mechanisms and curriculum revisions in place. The government has to implement innovative appraisal mechanisms that ensure that teachers are upskilled in their respective fields. This can result in an intuitive and curious learning environment in colleges.
Mere budget allocations and announcements  of skilling missions are not enough, the skill ecosystem has to be reviewed based on  the existing and future requirements of the job market in Kerala. The skilling initiatives must be accessible , efficient and meet industry specific standards. Otherwise, all attempts in this regard shall remain as "old wine in a new bottle".
Image source: Kerala Kaumudi
Views expressed by the author are personal and need not reflect or represent the views of Centre for Public Policy Research.
Anu Maria Francis is an Associate, Research at Centre for Public Policy Research (CPPR). She completed her graduation in Law from National University of Advanced Legal Studies, Kochi. She has worked as UPSC exam trainer and mentor with many coaching institutions in Kerala. She has also interned with a couple of organisations like Kerala State Information Commission, ACTIONAID India, Ceat Tyres Ltd, Biocon Pharma Ltd, Khaitan and Co Law Firm etc. Her academic interests pertain to legal and governance issues and education. She also has experience in handling business ventures.